Time to GET OUT THE VOTE
Tuesday, January 5, 2021
Last and Final Push to Run the Hills of Atlanta, Georgia
7:30 a.m.
It has been another long day, but this one started out later, so the kids started phone banking after breakfast with our group. They were provided tablets and earbuds, so they went for it early and started making calls to voters.
I had a few calls to make for work as well, so after a later start, we headed for Alpharetta, a pretty and quiet suburb of Atlanta, Georgia. Not as many hills, but a TON more homes to hit.
11:30 a.m. These last books were 25 miles and tons of traffic away, so we arrived an hour later at 12:30 p.m. The Alpharetta homes were on flatter ground than the ones we visited on previous days, but they were spread out, and with the final push to get out the literature and the votes, we finished our one book and went to a quick lunch, only to get in the van to head back to headquarters.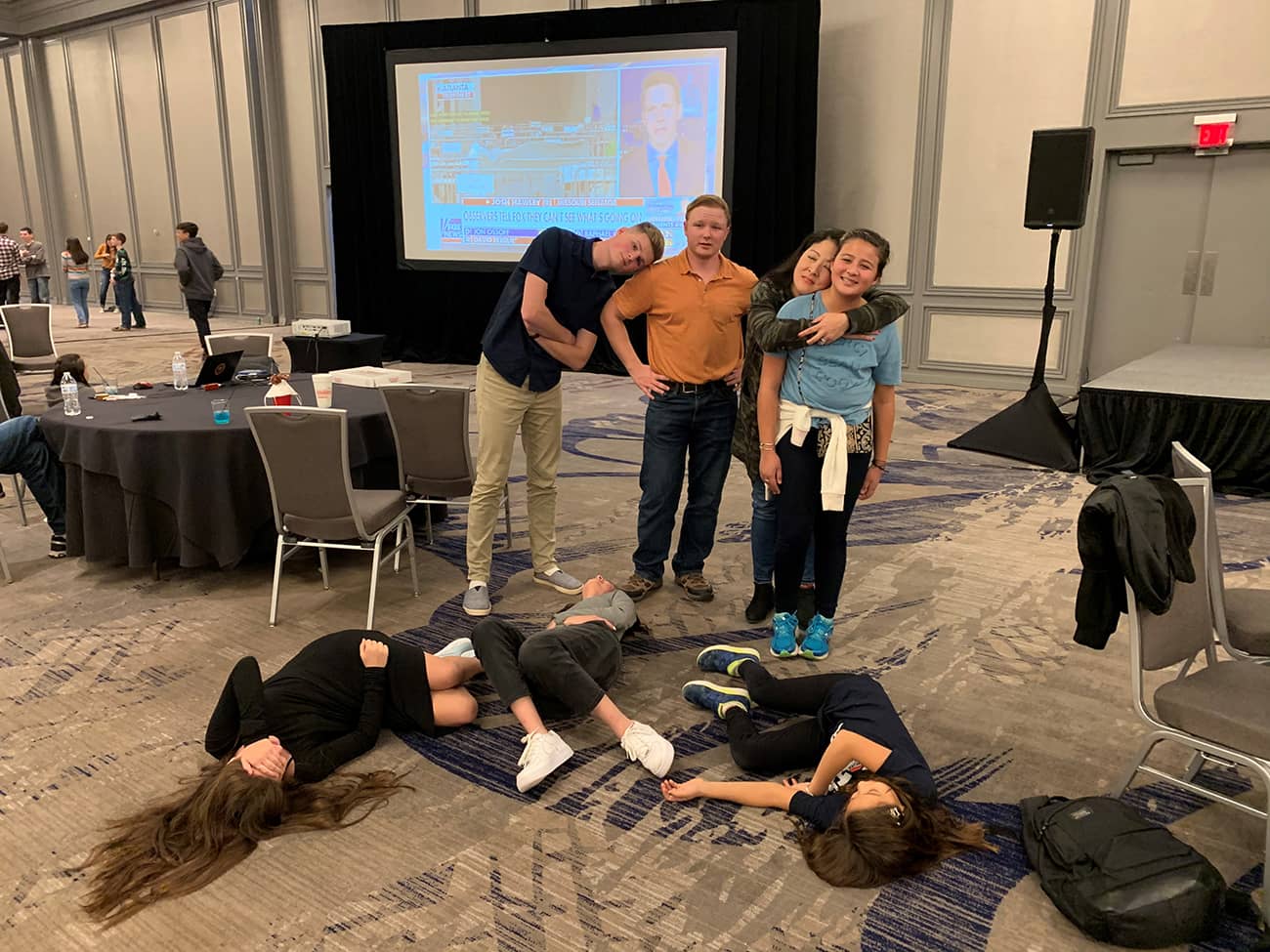 2:30 p.m. Our team was wiped out! Giggling and hunched over in the van, we lamented finishing only one book, marveled at some of the other, more experienced teams working through multiple books, and headed back to headquarters to switch out drivers. With the terrible traffic and construction on all the connecting highways, we decided to phone bank the rest of the afternoon.
7 p.m. The giant screen is up in the ballroom. We were hopeful for good results. Red, white, and blue mylar balloons are strewn around the room and we are pumped to see the results. Everyone is running on fumes, but the atmosphere is heavy with hopeful anticipation. The numbers fluctuate between 1 and 2 percent between the candidates, and it is a nail-biter. After a copious amount of delicious local BBQ, laughs, final prizes and an indoor snowball fight, it is time for bed. (NO RESULTS YET)
10 p.m. As I sit in my bed, I am blown away at the doggedness of the parents, teens, tweens, and littles that worked the phones, knocked on doors, and repeated it happily day after day. These parents and teens know the grueling 12- to 15-hour days, and the accompanying physical and mental exhaustion. Nevertheless, everyone returned day after day, setting an example to their kids as well as showing and participating and making a real difference in elections.
This was my first SAT, but probably not my last. Next time, though I would ask for an experienced navigator! The days were taxing, from some nail-biting drives through the highways and suburbs of Atlanta to the frenetic push to knock on as many doors as possible. But every day ended with a surprisingly restorative, preservative, and carb-loaded dinner, and inspirational and hilarious post-dinner story times. As I reflect at the end of the day, I am buoyed by the experience, my kids benefiting from not just seeing the news but also being a small part of making it. (STILL NO RESULTS)
UNOFFICIAL FINAL STATS:
HOMES CONTACTED: The GenJ group hit thousands of homes through the phones and on foot over a five-day period
FOOD: Massive carb intake over five days
SUGAR: Blowpops, tootsie roll pops, chocolate kisses and skittles consumed
OVERALL EXPERIENCE: Kids are forever changed in their understanding of the civics process and participating in it = PRICELESS